What does it take to launch a corporate event?
The first and foremost step you need to take is to determine who your target audience is. After this, you can start putting the pieces of blocks. You cannot organize a successful corporate event without the attendees from your niche. Once you decide your target audience, everything will start to fall into place in regards to the event format, process, content, location, etc. This approach will also help you to focus on your specific goals and prevent you from making wrong decisions for the occasion. Set the Budget
Finding out how much money you will need to organize a corporate event is really important. It will also affect the type of event you are hosting. If you have a low budget, you will keep it a simple and intimate affair. But if you are launching a product or service, you may need to plan a big event. In both cases, planning and budgeting are important. If you start the preparations for an event without setting the budget, you will end up facing many problems.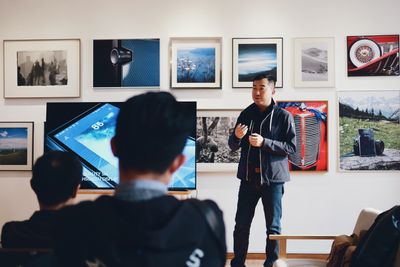 Photo by Dwell with Dignity
Of course, you can't organize an event on your own. You need a dedicated team to help you with the décor, invites, budget, and managing the event venue in NYC. Although many companies have their event teams, if your firm doesn't have one, it's a perfect time to create one. Choose skillful people from different departments of your company who can do various tasks for you. Your team will help you to allocate budgets, arrange food, create invitations, cleaning up, decoration, welcome guest, and other significant jobs. Many hands will make work easy, and having a hard-working team can help you get the work done quicker.
You need to make a list of guests after planning the budget. The more people you invite, the more budget you need. Making a list of guests is vital to ensure that you do not forget any valuable person. Make sure to add your clients and colleagues to the list. Send the invitations according to this list. The layout of the invites must match the nature of your event.
Choosing the right venue is the key to organize a memorable event. It decides whether you are going to win or lose. You want a beautiful location that goes well with your theme and has the perfect ambiance for a corporate event. Moreover, find an event venue in NYC that has enough space to accommodate your guests and a location your staff and clients can reach. Also, using stand out features in your venue force your guests to appreciate your idea and efforts the entire evening. For instance, you can find a site with a large terrace and outstanding views or any unique studio with glass walls to let the moonlight in. However, you may need to book that place at least one month before the event.
It's essential to plan everything step by step. Good food and a lively atmosphere will help make your event successful. So, create a menu that your guests will enjoy. Make sure to serve fresh food and refreshments to your guests. Also, plan something for their entertainment, such as a live concert, etc.
We have listed only a few essential steps to organize a successful corporate event. Make sure to book the best event venue in NYC for your big day. The key is to make a plan, create a budget, and distribute tasks.below should be started at least two months before the event.