Top Inspirational Trends for a Holiday Party in Quarantine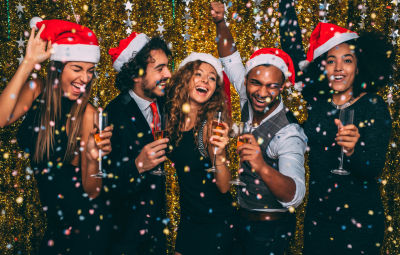 They say humans are social animals and rightly so! Every party animal is missing those gatherings, events, celebrations, and party nights nowadays. You usually book the best event space in NYC to host a fantastic party for friends and family. But now you can't. Quarantine has changed the lifestyle, our interests, hobbies, and daily chores. Social distancing is the new cool! But that doesn't mean you can't cherish and laugh the same way you did before Corona life. Yes, you can still host a wonderful holiday party. Not sure how? Read this post for exciting trends and ideas for partying in quarantine.
One of the most popular ideas you may have seen on social media is the drive-by parade. You can host a parade at your holiday party. Just Whatsapp or text your peers and tell them to get into their car with handmade party props, balloons, posters, etc. After that, they can drive-by one by one around your house, cheering and dancing. You can also ask the neighbors or friends to come out and join the party, while you will drive around. It's a great idea when almost everyone is staying at home. They will get excited to celebrate their holiday. You can deck out the car in over-the-top celebratory ways to throw the party vibes.
You can hire an entertainer or expert who can host activity on Zoom. It can be a cooking class, TikTok dance workshop, pet training lessons, gaming techniques lessons, art activity, and other things. The instructor will lead the operation and encourage every person on the group to follow. It's the best way to have your holiday party at a remote event space in NYC. You and your friends will enjoy every bit of your party night.
Attend a Livestream Show or Concert
Your house can become the best event space in NYC for a virtual show or concert with your peers. You can enjoy many shows and concerts offering livestreams with your friends, including Melissa Etheridge, the Metropolitan Opera, HER, and the Royal Albert Hall. Tune any of the show or concert you like to enjoy the holiday party in quarantine. Play Games
Maintaining a distance from family and friends doesn't mean you can't host a game night. Various online gaming platforms and apps, such as Uno and Mario Kart, are making these quarantine days fun and lively. Choose a platform like Zoom or Skype, set up a virtual card room, and let the game begin! You can invite your peers and family for the ultimate gaming experience. You can also play Jackbox Games, which have several features specially designed to step up the party game!
Now you know that hosting an amazing party without an event venue in NYC is possible. All you need is a group of friends who are ready to rock the party, following the protocols of social distancing. You can explore social media platforms, online gaming apps, live concerts, and much more to have some fun with your people in quarantine.