15 ideas of how to make my wedding the most unique wedding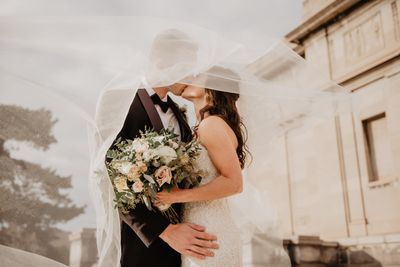 Photo by Emma Bauso
For a special touch, opt for a unique venue for your wedding. A museum, art gallery, botanical garden or rooftop terrace are all great alternatives to the typical banquet hall or church. This will ensure that your guests have a memorable experience.
Include your hobbies and interests: If you and your significant other are passionate about the same hobby or activity, why not incorporate it into your nuptials? For instance, if you both enjoy taking hikes, you can have the ceremony at a picturesque trail or decide on a hiking-related wedding theme.
Make your wedding favors unique and memorable by personalizing them. Ideas include handwritten notes, small potted plants, or something that symbolizes your shared passions. For the decor, go for unconventional flowers like succulents, proteas or wildflowers instead of roses and baby's breath to give a rustic and natural touch to the event.
Have a food truck or food stations: Instead of a sit-down dinner, consider hiring a food truck or setting up different food stations for your guests to choose from. This will add a fun and casual vibe to your wedding.
Create a signature cocktail: Have a custom cocktail created specifically for your wedding. This will add a personal touch and give your guests something unique to try.
Use unique lighting: Instead of traditional white fairy lights, try using colored or patterned lighting to add a pop of color and interest to your wedding.
Have a non-traditional wedding dress: If you want to stand out, consider wearing a non-traditional wedding dress such as a jumpsuit or a colored gown. This will make you feel confident and unique on your special day.
Personalize your wedding invitations: Instead of the typical white and gold invitations, try using colorful or patterned paper and include a personal touch such as a handwritten note or a special illustration.
Have a live band or DJ: Instead of a traditional wedding band or DJ, consider hiring a live band or DJ that plays a unique genre of music. This will add an extra element of excitement to your wedding and keep your guests dancing all night long.
Incorporate cultural elements: If you or your partner come from a different culture, consider incorporating traditional elements into your wedding. This can be through food, music, or even wedding attire.
Have a photo booth: Instead of traditional posed photos, set up a photo booth with props and backdrops for your guests to take fun and candid pictures.
Choose unique wedding rings: Instead of the typical diamond rings, consider using alternative materials such as wood, emeralds, or even black diamonds.
Have a dessert bar: Instead of a traditional wedding cake, have a dessert bar with a variety of sweet treats for your guests to choose from.
Use unique table settings: Instead of the traditional white linens and centerpieces, try using colorful or patterned linens and unique centerpieces such as succulents or candles. This will add a personal touch to your wedding and make it stand out.