Most Unique Wedding Venues NYC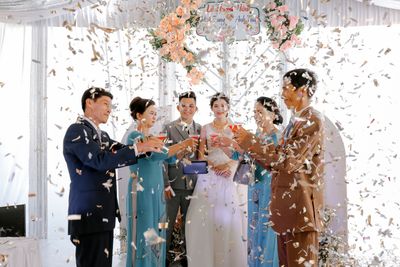 With its diverse range of neighborhoods and venues, NYC offers some of the most unique wedding locations in the world. From industrial lofts to botanical gardens, there is something for every couple's taste. In this article, we'll highlight some of NYC's most unique wedding venues that will impress your clients and make their big day unforgettable.
New York City is a dream destination for couples looking to tie the knot uniquely and unforgettably. With so many options available, choosing the perfect venue for your special day can be overwhelming. To help you, we've compiled a list of NYC's top 5 most unique wedding venues.
Tribeca Rooftop This stunning rooftop venue is located in the heart of Tribeca and offers breathtaking city skyline views. The space features a glass-enclosed penthouse with a wraparound terrace, making it the perfect spot for an outdoor ceremony or reception. Tribeca Rooftop will impress your guests with its modern design and elegant ambiance.

The Foundry Nestled in Long Island City, The Foundry is a historic building transformed into a unique event space. The venue boasts an industrial-chic aesthetic with exposed brick walls, soaring ceilings, and original ironwork details. Its outdoor courtyard provides a romantic setting for an intimate ceremony or cocktail hour.

Glasshouse Chelsea If you're looking for a venue with a contemporary vibe, Glasshouse Chelsea is a perfect choice. This sleek and modern event space features floor-to-ceiling windows that offer panoramic views of the Hudson River and High Line Park. With its minimalist design and natural light, Glasshouse Chelsea provides an ideal backdrop for any wedding style.

Brooklyn Botanic Garden For nature-loving couples, Brooklyn Botanic Garden offers an idyllic setting for an outdoor wedding ceremony or reception. The garden's lush greenery and colorful blooms provide a picturesque backdrop for your special day. Whether you're planning an intimate gathering or a grand celebration, this enchanting venue will leave you and your guests spellbound.

Ace Hotel New York Located in Midtown Manhattan, Ace Hotel New York is a trendy boutique hotel with plenty of options for accommodations and celebrations. Its cool rooms and Michelin-starred restaurant provide an urban-chic atmosphere perfect for modern couples looking to make a statement on their big day. What to Consider When Finding the Best Wedding Venue

Choosing the perfect wedding venue is one of the most important decisions you'll make when planning your big day. The right venue can set the tone for your wedding and make it an unforgettable experience. Here are six factors to consider when finding the best wedding venue for your special day:

Location The location of your wedding venue is one of the most important factors to consider. You want to choose a location that is convenient for both you and your guests and that fits with the overall theme and style of your wedding. A countryside or vineyard location might be perfect if you're looking for a rustic or outdoor wedding. An urban loft or rooftop terrace might be more suitable if you're looking for something more modern.

Capacity The capacity of your wedding venue is another important factor to consider. You want to make sure that there is enough space for all of your guests without it feeling too cramped or overwhelming. Be sure to ask about maximum capacity limits and seating arrangements before making final decisions.

Budget Your budget will also play a big role in determining which wedding venues are available. Be sure to have a clear idea of how much you can afford to spend on your venue before starting your search, as this will help narrow down your options.

Amenities Different venues offer different amenities, so it's important to consider what's important to you when choosing a venue. Do you need catering services? A dance floor? A bridal suite? Make a list of must-have amenities before starting your search.

Availability Wedding venues can book up quickly, especially during peak season, so checking availability early on in the planning process is important. If you have a specific date in mind, check with potential venues immediately.

Atmosphere Finally, consider the overall atmosphere and vibe of each potential wedding venue. Does it feel romantic and intimate? Fun and lively? Elegant and sophisticated? Choose a venue that matches your desired mood and tone for your special day.
If you plan to get married in New York, there are many factors to consider when choosing the best month for your big day. The weather, availability of venues and vendors, and peak wedding season are just a few things to keep in mind. One of the most popular months for weddings in New York is June. The weather is typically warm and sunny, perfect for outdoor ceremonies and receptions. However, this also means that venues and vendors may be more expensive and harder to book during this peak wedding season.
Another great option is September. The weather is still warm but not as hot as the summer, and the fall foliage adds a beautiful photo backdrop. Plus, since it's not peak wedding season, you may be able to save some money on venue and vendor costs.
If you're looking for a winter wonderland wedding, December or January could be perfect. While it may be cold outside, indoor venues can provide a cozy atmosphere with holiday decorations and twinkling lights. When it comes to the ideal month for tying the knot in New York, it's all about your priorities and needs. Assess what matters most - climate, budget-friendliness, or a premeditated theme – then select a period that fits those criteria accordingly.
New York City offers an abundance of unique wedding venues for couples wanting to tie the knot unforgettably. From industrial lofts to botanical gardens, there is something for every taste. When choosing the perfect wedding venue, consider location, capacity, budget, amenities, availability, and atmosphere. Ultimately, the ideal month for a wedding in NYC depends on the couple's needs and priorities.