Wedding Budget - Realistic Budget and Possibility of a $5000 Wedding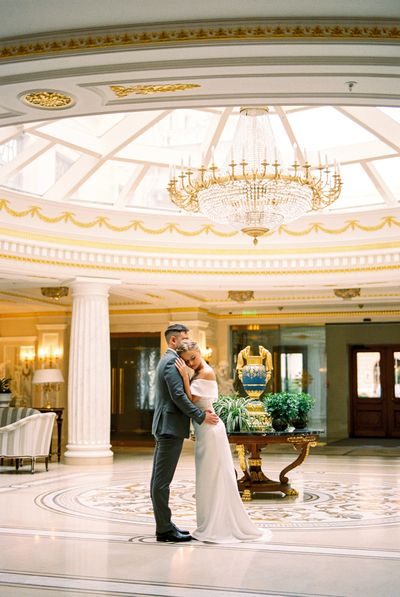 Weddings are one of the most memorable events in a person's life, but they can also be expensive. Setting a realistic budget for your wedding is important to avoid overspending and unnecessary stress. So, What is a realistic budget for a wedding? Is it possible to have a wedding for $5000? Read on.
The average wedding cost in the United States is around $33,900, including the engagement ring. However, this amount can vary greatly depending on various factors such as location, number of guests, and type of venue. A realistic budget for a wedding would depend on your financial situation and priorities. To determine your wedding budget, list all the expenses you will incur, such as venue rental, catering, attire, photography/videography, flowers/decorations, music/entertainment, and transportation. Once you know how much each item costs in your area or preferred location, allocate funds based on their importance to you.
Yes, it is possible to have a wedding for $5000 or less if you are willing to compromise and prioritize certain aspects over others. Here's how:
Keep Your Guest List Small Limiting your guest list is one of the easiest ways to save money on your wedding. While it may be tempting to invite everyone you know, remember that every additional guest means more money spent on food, drinks, and other expenses. Consider inviting only close family members and friends who are important to you. Later, you can also have a separate reception or celebration with extended family members and acquaintances.

Choose an Affordable Venue The venue is one of the most significant expenses in any wedding budget. Instead of renting an expensive hotel ballroom or country club venue, consider hosting your wedding at a public park or community center that offers affordable rental rates. You could also rent a private home or Airbnb for the ceremony and reception. This option often provides a unique and intimate setting that will make your wedding special.

DIY Decorations DIY decorations are budget-friendly and give a personal touch to your wedding décor. You could create beautiful centerpieces using mason jars filled with flowers from local farmers' markets or craft paper lanterns for lighting. If you have artistic skills, consider painting signs or creating custom banners for the event. You could also use candles and string lights to create ambiance without breaking the bank.

Opt for Buffet-style Catering Buffet-style catering is often more affordable than plated meals since it requires less staff and equipment. With this option, guests can serve themselves from various food stations around the reception area. Buffets also offer more menu options than plated meals, making catering to different dietary needs and preferences easier.

Skip the DJ/Band Entertainment is another significant expense in any wedding budget. Instead of hiring a professional DJ or band, create your own playlist using free music streaming services like Spotify or Pandora. You could also ask friends who are musically inclined to perform during the ceremony or reception as an alternative entertainment option.

Choose a Non-traditional Wedding Dress Wedding dresses can be expensive, but there are many affordable options available. Consider buying a non-traditional dress, such as a bridesmaid's or a white dress from a department store. You could also look for second-hand dresses online or at consignment shops offering discounted designer dresses.

Opt for Online Invitations Traditional paper invitations can be costly, especially if you have many guests. Instead, opt for digital invitations you can create and send online for free. Many websites offer customizable templates with various designs and themes to choose from.

Have a Daytime Wedding Hosting your wedding during the daytime can save you money on venue rental and catering costs since brunch or lunch menus are often less expensive than dinner menus. Plus, daytime weddings provide natural lighting that will make for great photos and allow guests to enjoy outdoor activities such as lawn games.

Use In-season Flowers Flowers can be an expensive part of any wedding décor budget. Choose flowers that are in season and readily available in your area to save money. You could also consider using potted plants or succulents as centerpieces instead of cut flowers, which will last longer and serve as nice souvenirs for guests to take home after the event.

Purchase Alcohol in Bulk If you plan on serving alcohol at your wedding, consider purchasing it in bulk from wholesalers or discount stores like Costco or Sam's Club. You could also limit the selection to beer and wine rather than offering a full bar with premium liquors that can significantly increase your expenses.