A renovation plan to convert a warehouse into an event venue
Remove any unnecessary structures or partitions within the warehouse to create a open floor plan
Install load-bearing columns and beams as necessary to support the weight of event attendees and equipment
Repair or replace any damaged or structurally unsound elements of the warehouse
Install new electrical wiring and outlets throughout the space, including dedicated circuits for audio/visual equipment and kitchen appliances
Install lighting fixtures, including both ambient and task lighting
Install a new HVAC system to provide climate control for the event venue
Install plumbing for restrooms and any necessary kitchen or bar areas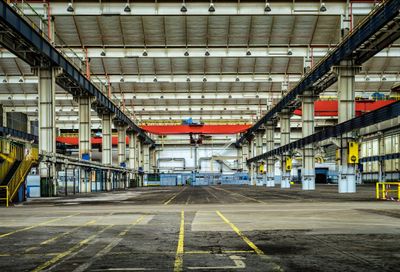 Photo by Pixabay
Install new flooring, such as hardwood or epoxy, to create a clean and modern look
Add soundproofing materials to the walls and ceiling to reduce noise levels during events
Install acoustical panels or other sound-absorbing materials to improve the overall sound quality of the space
Paint the walls and ceiling in a neutral color to create a blank canvas for event planners to decorate as desired
Add decorative elements, such as exposed brick or industrial-style beams, to enhance the character of the warehouse
Install restrooms and any necessary kitchen or bar areas
Add a stage and lighting equipment for performances or presentations
Install AV equipment, such as projectors and speakers, for presentations and multimedia events
Add tables and chairs for seating, as well as linens and tableware for catering
Consider adding outdoor space, such as a patio or rooftop, for events with a larger guest list or for use as a breakout area.
Determine the size and layout of the warehouse: Consider the size of the warehouse and its layout to determine the type of events that can be hosted there. This will help you to determine the necessary renovations and modifications to make the warehouse suitable for events.
Obtain necessary permits and licenses: Make sure to obtain all necessary permits and licenses from the local authorities to legally operate as an event venue. This may include a liquor license if you plan to serve alcohol at events.
Renovate the warehouse: Depending on the type of events you plan to host, you may need to make renovations to the warehouse to make it suitable for hosting events. This may include installing lighting, sound systems, stages, and restrooms.
Design the event space: Consider the theme and aesthetic of the events you plan to host, and design the event space accordingly. This may include decorating the space, adding furniture and fixtures, and installing any necessary event equipment.
Promote the venue: Once you have renovated and designed the warehouse, it's important to promote the venue to potential event planners and clients. Consider creating a website, social media presence, and advertising in local event planning directories to attract bookings.